Why Choose an Organic Conditioner for Your Hair?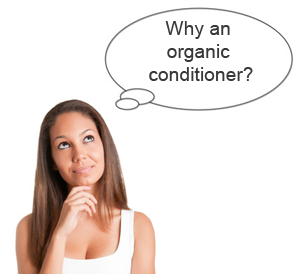 Most of us use a hair conditioner after shampooing. Hair conditioners are designed to do exactly what the name suggests, that is of course to moisturize and make the hair manageable. Most shampoos are manufactured with a companion conditioner; this conditioner is intended to replace any moisture or suppleness lost during the shampooing process. An Organic conditioner is used to provide a healthy all natural moisture after shampooing.
Why Should You Use An Organic Conditioner?
An all-natural conditioner combines essential ingredients from nature, so that you get a healthy nontoxic infusion of natural ingredients unto your hair and scalp. This will make your hair stronger. These conditioners are relatively easy to apply, simply wash your hair and apply a liberal amount to your tresses, you may choose to leave it on for a while for a deep conditioning effect or rinse it soon after application.
While commercial conditioners promise a lot, from volume, to shine, to even more hair growth, few are able to live up to their claims due to the harmful ingredients that many of them contain. These harmful ingredients damage the hair follicles. Commercial shampoos actively use ingredients that are not healthy for hair health and your overall physical well being.
Many people are making the switch to organic conditioners. This is not only because they contain all natural ingredients that are healthier for hair and body, but they are also environmentally friendly and will not harm the environment. With the emphasis on going green as well as healthy living, many individuals are making the switch to a natural and healthier lifestyle. Organic conditioners fit effortlessly into healthy living as well as being eco-friendly.
Organic conditioners are free of all the harmful chemicals which other conditioners contain. Commercial conditioners have been found to dry out the hair and scalp and strip it of its natural moisture even though they promise to do the opposite. This does significant damage to the hair and scalp. Look out for the following toxic ingredients and avoid them when buying a conditioner:
Diethanolamine (DEA), this is used as an emulsifier in several conditioners and it is also used as a foaming agent. Some studies have found a link between this chemical and cancer.
Triethanolamine (TEA) is used in products as a stabilizing agent; it is also used to balance Ph in conditioners.
Monoethanolamine (MEA) is also used as an emulsifier and like the two listed above have been linked to liver tumors.
DMDM hydantoin can cause sense organ toxicity and skin toxicity
Diazolidinyl urea and Imidazolidinyl urea are preservatives that are used to release another dangerous substance called formaldehyde.
In addition dangerous coloring agents may be added such as FD&C Red or D&C Green. Fragrance is also added; fragrance sometimes takes in as much as 4000 different chemicals. Certain chemical fragrances are known to cause nausea and induce vomiting. These are just some of the harmful ingredient in commercial conditioners. With this in mind, you should explore healthier products that don't contain any chemical fragrances.
Ingredients to Look For In All-Natural Conditioners
Always look for natural ingredients when attempting to choose an organic conditioner. Organic conditioners contain ingredients that have been taken directly from nature and are therefore the best option. Some key natural ingredients to look out for are essential oils which penetrate the scalp while nourishing and moisturizing it. Tea tree oil in particular is a good essential oil as it has antiseptic properties and is also nourishing to the scalp, so you will find it in many organic conditioners.
Aloe Vera and coconut oil are also key ingredients to watch out for, in general, ingredients that contain essential oils, herbal extracts and are free of the chemicals listed above are good choices. Avoiding the wrong ingredients means you will need to read all the labels of the products you buy carefully.
Organic Conditioner Recommendations
This conditioner is great for hair that needs moisture. No matter how dry or damaged your hair may be, this conditioner will effectively repair it, giving you hair that is not only soft but manageable as well. This conditioner is safe if your hair is color treated as it is very gentle. It contains all natural ingredients such as, Argan stem cells and Argan oil.
Acure Organics Conditioner is highly enriched with omega 7 and Organic Sea Buckthorn Oil. Organic Pumpkin Seed Oil is also a major ingredient. Organic Pumpkin seed oil is rich in omega three and six fatty acids. These fatty acids effectively add shine to the hair making this conditioner very effective as it seals in moisture, strengthens the follicles in your scalp and fixes any damage done to scalp and hair.
This conditioner is vegan. It is wheat and gluten free and it is also good for restoring moisture and repairing any damage that has been done to the hair. It is great for smoothing out frizzes and getting your hair in good shape once again. It is a good choice for fine, chemically treated and dry hair. Desert Essence is infused with coconut and other natural extracts and adds volume and incredible shine to the hair.
This conditioner contains olive oil, shea butter, jojoba oil and almond oil as well as herbal extracts. It is ideal for those who are looking for natural nutrition for their hair.

This Conditioner is designed to moisturize and repair the hair. It contains argan, jojoba oil and Baobab. These ingredients are powerful and are capable of repairing dry damaged hair quickly and effectively.
The argan oil in the conditioner is small enough to penetrate the hair shaft and to moisturize as well as protect it from any further damage. Jojoba oil makes hair healthy and shiny and gives life to hair that is dull and lifeless. Baobob is known to heal hair cuticles and to improve the overall elasticity of the hair.
Finding an organic conditioner is a matter of personal taste as there is bound to be one that suits your hair needs. The important thing is to remember, as mentioned before, to check your labels to make sure you do not find any harmful chemicals and that the ingredients are all natural. Knowing what to look for is important as there are many conditioners that claim to be organic but are not, so the responsibility is on the consumer to shop wisely.
What Do you Think?
Have you used any of the above conditioners mentioned above?  What are some of your recommendations for great organic hair conditioners? Please share your comments below.