Eliminate Flaky Hair Problems with an Organic Dandruff Shampoo
What Is Dandruff?
Dandruff is a condition that is quite common, it is characterized by the flaking off of the skin on the scalp. Dandruff is usually not contagious but it can cause a bit of embarrassment especially if the flakes start getting onto your clothing. One of the best ways to treat dandruff is to use an organic dandruff shampoo. However, before looking at the benefits of using this type of shampoo to treat dandruff, let us look at some of the causes of dandruff.
Major Causes of Dandruff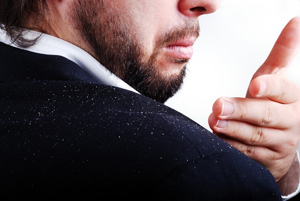 Extremely dry skin is one of the ways in which people develop dandruff. If the dandruff is caused by dry skin then the flakes will tend to be smaller and will have a lot less oil. If you have dandruff caused by dry skin, then you will probably have dry skin in other areas of the body as well.
More often than not though, dandruff is caused by seborrheic dermatitis. This is characterized by a red and greasy scalp that contains flaky white scales, the scales may also be yellow in appearance. Seborrheic dermatitis does not just affect the scalp but it may also affect the other areas of the body that have oily glands. This includes armpits, eyebrows and even the sides of a person's nose.
Dandruff may also be caused by not washing the hair often. This can cause the oils that are in the cells of your scalp to start building up resulting in dandruff.
Another common cause is a fungus known as (Malassezia). Malassezia is on the scalp of most adults but some people may have an allergic reaction. This will cause the Malassezia to start growing and once it does then the extra skin cells will begin falling off and die.
It was mentioned before that not shampooing often enough can cause dandruff, dandruff may also be caused by too much shampooing. This is because some shampoos contain a substance known as paraphenylenediamine, this can cause the scalp to become irritated and itchy. This is why it often becomes necessary for someone with dandruff to use an organic dandruff shampoo to control the condition.
What Is An Organic Dandruff Shampoo?
An organic shampoo for dandruff is made from natural ingredients. It does not contain some of the harsh chemicals that are often put in many dandruff shampoos in an attempt to aggressively use medicinal ingredients to get rid of the condition. Instead of using medicinal ingredients, organic shampoos will contain natural ingredients that heal the scalp to assist in controlling the dandruff.
Here are four tips that will assist you in finding an organic shampoo:
You should try to visit a store that specifically sells organic products. It can be difficult to find organic products at some local stores that do not specifically stock natural and organic products, so shopping online is your next best bet.
Once you select a shampoo, look at the label to make sure that the shampoo has been certified as organic. This may seem obvious but many people overlook this step, resulting in them purchasing a product that is not authentic.
Always check the ingredients of any organic shampoo you purchase to make sure that it does not contain any harsh chemicals. Some of the harsh chemicals that should be avoided include sulfates and silicones. The shampoo should also have a minimum amount of alcohol.
Check for essential oils. Essential oils are good for the hair and will help heal the scalp, some good ones are tea tree oil and rosehip seed oil. You should make it a rule to look for ingredients from plants in this type of shampoo.
Here are some organic shampoos for dandruff that you can try:
In just a matter of a few days, you can see some significant improvements using Just Natural Organic Hair Care's Dandruff Shampoo. This powerful dandruff shampoo formula, with host of dandruff fighting herbal ingredients (Sea Algae Extract, Tea Tree Oil, Cranberry Fruit Extract, Rosemary Leaf Extract, Manuka, Karanja Oil and more) will help you to moisturize your scalp and prevent the reoccurrence of flaky hair and itchy skin. It's safe to use this shampoo for color/perm treated hair and all other hair types.

Sage Shampoo is highly recommended as a great shampoo to attack and treat dandruff at the source. It's a sulfate free solution with an antiseptic formula that removes dead skin cells and reduces shedding. Also, with a combination of 100% Organic Spikenard,  Jojoba, Aragan, Tea Tree and many other botanical goodness, you're hair and scalp will Thank You.
Finally, you may wish to try some shampoos with  apple cider vinegar as one of the main ingredients. This helps to soothe itchy scalp and restore the Ph balance in the scalp, and it will also provide a host of other health benefits to your hair and body.
Buy using a safe organic dandruff shampoo solution, you can feel great about your hair and eliminate the need to look over your shoulders to constantly brush dandruff off your clothes.