Why Use An Organic Shampoo For Hair Loss?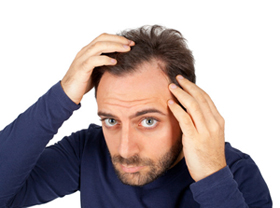 An organic shampoo for hair loss is usually recommended, if you are suffering from thinning hair. There are many reasons that a person may start losing their hair, but some of the chief factors are stress, genetics, age and illness. Hair loss is not gender specific as it affects both men and women. The chemicals that are used in many regular shampoos are often responsible for increased hair loss.
Genes may cause hair loss such as male pattern baldness which tends to run in families. As people get older they may also lose hair because the blood supply to the hair follicles, decrease as we age. Diseases such as cancer and the chemotherapy used to fight it are also notorious for causing hair loss.
Why Should You Use An Organic Shampoo For Hair Loss?
Organic shampoos help your hair stay healthy. Healthy hair has a greater chance of growing back over a period of time. Your organic shampoo should have certain essential ingredients in order to be effective. These ingredients should be completely natural so as not to further damage the hair.
Ingredients That Stimulate Hair Growth
Three natural plant based ingredients that are essential for stopping hair loss are chamomile, rosemary and lavender. These ingredients help to stimulate the hair follicle, stimulation increases the blood supply to the follicles making it easier for hair to grow. These ingredients also help to make the hair stronger, this helps it to resist breakage.
Your organic shampoo should also use fruit extracts, some good ones are jojoba or pomegranate. Ingredients such as these are useful because they reduce any blockages that may be affecting the follicles of the hair. They are also thought to have anti-oxidant properties that help to stimulate hair regrowth.
Jojoba in any hair loss shampoo is rendered even more effective if it combined with aloe vera. This is because the aloe vera plant has excellent anti-inflammatory and antibacterial properties that help to prevent a disease called folliculitis. Folliculitis can produce massive hair loss and should be curbed as soon as possible to prevent baldness.
Ingredients That Protect And Make Hair Thicker
Panthenol (Vitamin B-5) – This vitamin is used to reverse damage that has been done to the hair shaft and is also famous for its moisturizing properties.
Wheat Proteins – These will protect the hair against breakage by moisturizing the hair.
Soy Proteins – These proteins can be used to increase the volume of the hair and to make the hair appear fuller.
Biotin and Vitamin B-12  – In addition to including these in your diet to stop hair loss, your organic shampoo for hair loss should have one or both of these vitamins as lack of them has been shown to increase hair loss.
There are certain chemicals in regular shampoos and even some that profess to be organic that are damaging to the hair. Among the most common are sulfates. Sulfates should be avoided entirely when you are experiencing hair loss.
The shampoo that you use should be 100 % organic. If you are suffering from hair loss the last thing you need is a product that will cause more damage to the hair follicles. That is why it is so important that you are familiar with the best natural ingredients for stimulating regrowth after hair loss.
The following shampoos are excellent choices if you are looking for an organic shampoo that helps to reduce hair loss as they do not contain sulfates and have natural ingredients:
This is one of the best organic hair loss shampoos on the market today! Phytoworx Organic Hair Loss Shampoo uses the finest Switzerland plant stem cells with a blend of organic ingredients that includes rosemary and eucalyptus oils, tea tree and peppermint. With this powerful combination, customers have experienced a significant reduction in hair loss, a healthier scalp and have seen more stimulated hair growth.
JustNatural's Organic Hair Care Natural Hair Loss Shampoo is made from the purest of ingredients to naturally clean the pores of your scalp and unblock follicles to encourage hair growth. It's packed with rich ingredients such as Saw Palmetto Extract, Carrot Root Oil, Aloe Vera Leaf Juice, Chia Seed Oil- Omega 3, Nettle Root Extract, ucumber Seed Extract, Vitamin E, and many more natural and organic ingredients to promote hair growth.
Whatever choice you make, when buying an organic shampoo for hair loss, be sure that you check the ingredients on the label thoroughly and do your research in order to purchase the best product possible.